OM MUSHROOMS: Energy+ Citrus, 4 oz
Regular price

$29.22
Sale price
Pickup currently unavailable
Share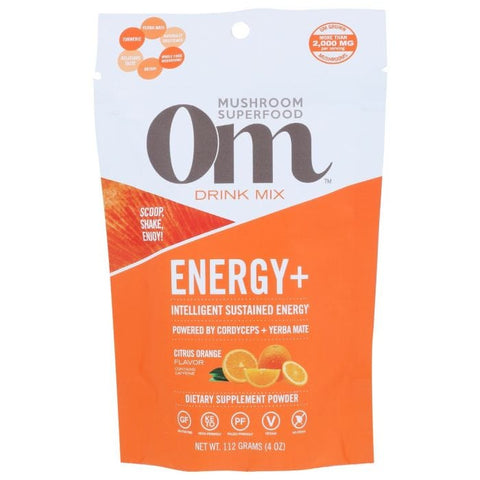 Supercharge your energy with a power blend of Organic Cordyceps, Organic Reishi and Organic Lion's Mane + B-Vitamins (Vitamin D, C, B2, B3, B6 and B12) and natural botanicals, Guarana, Yerba Mate and Turmeric.
No jitters. No crash.
Just clean sustained energy that's natural and delicious. Boost your water with the refreshing taste of Orange Om Energy+ to 'shroom your zoom and get going.
Om Mushroom Superfood Energy Plus Mushroom Powder Citrus Orange Drink Mix: Contains one 4 ounce pouch (18 servings) made with Cordyceps and Yerba Mate mushroom powder supplement for increased energy

Intelligent Sustained Energy: Made of Organic Om Mushroom Blend with Cordyceps, Reishi, Yerba Mate, Tumeric and Naturally Occuring Caffeine for sustained clean energy, focus, alertness and immune support

Delicious and Nutritious: Each serving of Energy Plus Orange Drink has 600mg (660% Daily Value) of Vitamin C and is Gluten Free, Vegan, Keto-friendly, Paleo-friendly and contains no Stevia

USA Grown the Om Way: Om Mushroom Superfood Powders, Capsules, Hot Drinks, Energy Drinks and Broths are all produced in the USA. We grow, dry and mill our organic mushrooms into powders in our state of the art facilities in Southern California, to ensure the highest quality, and verify using 3rd-Party Testing. Om Mushroom powders are USDA Certified 100% organic, non-GMO, gluten-free, vegan, grown in the USA, paleo-friendly, keto-friendly, kosher

Full Line of Premium Mushroom Supplements: Try our full-line of premium mushroom powders, capsules, hot drinks, energy drinks, and broths to support daily health, beauty, focus, clarity, energy, performance and mental health
 
Ingredients
Certified Organic Beauty Mushroom Powder Blend: Organic Chaga (Inonotus obliquus) mycelial biomass & primordia, Organic King Trumpet (Pleurotus eryngii) mycelial biomass & fruit body, Organic Maitake (Grifola frondosa) mycelial biomass & primordia, Organic Cordyceps (Cordyceps militaris) mycelial biomass & fruit body and Organic Shiitake (Lentinula edodes) mycelial biomass & fruit body, Marine Collagen Peptides, Natural Strawberry Lemonade Flavors, Organic Monk Fruit Extract, Organic Myceliated Oats.
Directions
Shake, Drink, Enjoy, Glow! 12 OZ Water + Approx. 1 tbs. Drink Mix
Legal Disclaimer
This statement has not been evaluated by the FDA. This product is not intended to diagnose, treat, cure, or prevent any disease. Statements regarding dietary supplements have not been evaluated by the FDA and are not intended to diagnose, treat, cure, or prevent any disease or health condition.
 

CUSTOMERS TESTIMONIALS
⭐ ⭐ ⭐ ⭐ ⭐

The best pick-me-up ever!
I put a scoop in my water bottle and shake it up. Amazing steady energy for the rest of the day.
⭐ ⭐ ⭐ ⭐ ⭐

Might change your life
I can't say enough good things about Om Energy (previously NRG Matrix) I've been taking it for years. I take it first thing in the morning everyday. I have tried every energy supplement on the market and nothing comes close to this. No jitters, no crash just instant refreshing long lasting energy, alertness, clear headed feeling. Minutes after I take it I am ready for the day and out the door to my morning workout. Not only is this product fantastic, it has excellent ingredients that have an added value of being good for you. I highly recommend this product and hope it stays around forever.
⭐ ⭐ ⭐ ⭐ ⭐

Energizing
I love this stuff! All natural ingredients, no added sugar, great taste and gives you mega energy to power through a strenuous day. No jittery caffeine feeling, just a good solid long lasting energy flow. The first time I used this stuff was on a backpacking trip and I was super impressed by how much energy it gave me, now I use it all the time while backpacking or hiking, even long busy days at work it helps keep my energy levels up and also seems to curb my hunger cravings.