Lion's Mane Mushroom
Regular price

$34.10
Sale price
Pickup currently unavailable
Share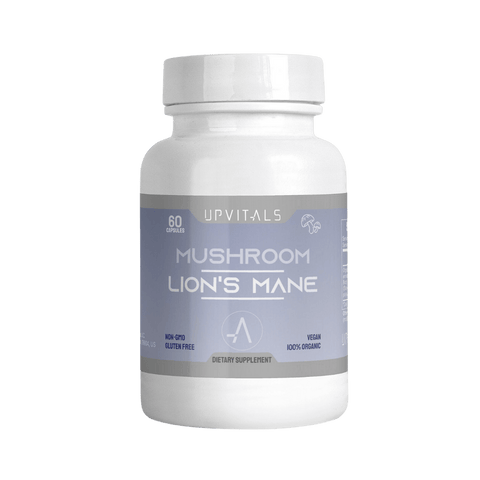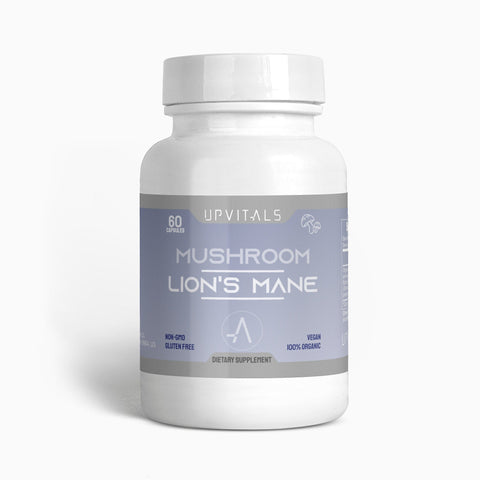 Concentrated Ultra High Strength Extract - Made with Organic Lions Mane - 40% Polysaccharides - Highly Concentrated and Bioavailable
Dual-Extracted for Bioactive Availability - Upvitals Lions Mane mushroom supplement contains 1000mg of some of the highest quality Lion's Mane mushroom powder grown and cultivated using a patented extraction process to ensure a concentrated dose of 400mg polysaccharides in each serving (other lions mane extract products contain 150mg or less).
Made From Pure Full-Spectrum Fruiting Bodies - Polysaccharides are renowned for their health-promoting effects, something other Lion's Mane supplements don't provide in high doses as it requires an extra step (and expense) in the manufacturing process. With our high concentration in Upvitals Lion's Mane, you are getting one of the most optimal lion's mane products on the market.
Setting a New Standard for Purity - To ensure that you are getting the highest-quality product, each batch is tested for quality and purity both during and after manufacturing.
Quality, First, and Foremost - Toniiq products are produced in a GMP-certified and NSF-approved state-of-the-art manufacturing facility right here in the USA.
Each Batch is Individually Tested - We test each batch both ourselves and through a third-party independent laboratory to ensure our ingredients contain the correct standardized level of purity and active ingredients. We also test each batch for any possible additives, contaminants, and impurities to ensure the highest level of quality.
Benefits
Contains nootropic compounds from both the fruiting body (hericenones and amycenone) and the mycelium (erinacine) that support memory, focus & brain health.*
Helps strengthen memory and concentration as well as enhance cognitive abilities.*
The polysaccharides of the Lion's Mane mushroom could help induce neuronal differentiation and promote neuronal survival.*
Helps support a healthy anti-inflammatory response.*
May promote healthy circulation.*
The polysaccharides from Lion's Mane have been shown to fight fatigue.*
Mushroom of the Gods
Originally native to Brazil where it is referred to as the "Mushroom of the Gods," Lion's Mane (Hericium erinaceus) is a mushroom that grows on trees, with long strand-like features that look similar to a mane.
As mushrooms have been used medicinally throughout history, recent studies on Lion's Mane have shown it to be neuroprotective and have beneficial properties on the nervous system.
The polysaccharides found in the cell walls of Lion's Mane are the bioactive compounds responsible for the health benefits it imparts.
These compounds help to increase cognition, providing mental focus and clarity, as well as helping to manage stress and mood.*
This balance helps the brain regulate and function properly and more efficiently. Along with helping to increase cognition, the polysaccharides in Lion's Mane also help stimulate the expression of Nerve Growth Factor (NGF), which supports the regrowth of neurons and the overall health of the nervous system.*
Features
2 Vegetarian Capsules providing 1g of Organic Lion's Mane Mushroom (Hericium erinaceus) derived from mycelium and fruiting body.

Amount: 60 vegan capsules

Bruto weight: 90 g (0.2 lb)

Usage: As a dietary supplement, adults take two (2) capsules daily, or as directed by a healthcare professional. Can be taken with food or on an empty stomach.

Storage: Store in a cool, dry place away from direct light.

Warning: This product is not intended to diagnose, treat, cure or prevent any disease. KEEP OUT OF REACH OF CHILDREN.