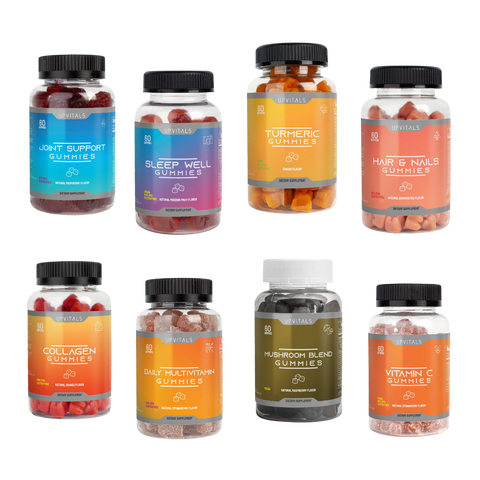 Gummies Selection
Welcome to Upvitals' Gummies Selection, where delicious meets nutritious! Our gummies are the perfect way to supplement your diet with essential vitamins and minerals in a tasty and convenient format.
Our Gummies Selection includes a range of gummies, each designed to support different aspects of your health and wellness.
From our Hair & Nails Gummies to our Vitamin C Gummies, we have a gummy to meet your needs.
Our gummies are made with all-natural ingredients and are free from artificial flavors, colors, and preservatives, ensuring that you are giving your body the best possible nutrition.
At Upvitals, we believe that taking care of your health should never be a chore, and our gummies make it easy and enjoyable to supplement your diet with essential nutrients.
We use only the highest quality ingredients in our gummies, so you can be confident that you are getting the best possible nutrition for your body.
Upgrade your wellness routine with Upvitals' delicious and nutritious gummies today!