CoQ10
Regular price

$29.00
Sale price
Pickup currently unavailable
Share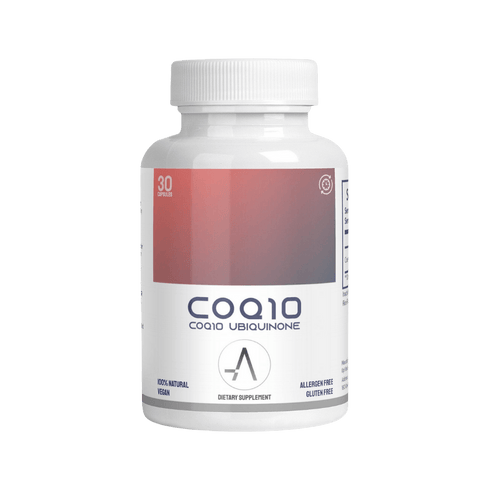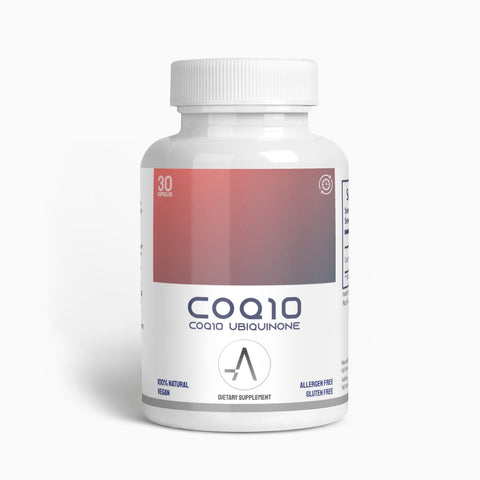 Keeping Your Heart Healthy with CoQ10
Benefits of CoQ10
Supports cardiovascular health and cellular energy
Supports natural replenishment of CoQ10 that may be depleted by aging and some medications
Supports better energy for those feeling occasional fatigue
How Does CoQ10 Work?
CoQ10 performs two vital functions: It is a coenzyme that helps energize cells and an antioxidant that helps protect cells
CoQ10's energizing antioxidant properties support cell vitality across many body systems
CoQ10 supports heart health, brain health, immune performance, skin health, exercise capacity, gum health, and more
CoQ10 powers cellular activity by 'sparking' the chemical reactions that energize cardiac tissues
Take Charge of Your Health Today with CoQ10 200mg!
CoQ10 Ubiquinone, often called CoQ10, is a powerful antioxidant and vitamin-like compound necessary for the function of cells. It is found naturally in the body and in some foods, but often the body can lack enough of this potent compound. CoQ10 can begin to lower as a person ages, which is why it's become a popular supplement. Ubiquinone also aids in the production of energy.
CoQ10 Protects Cells Against Oxidative Damage: It also plays a vital role in producing the body's primary source of energy, ATP. CoQ10 could, therefore, provide a range of health benefits. CoQ10 supplements may help relieve muscle pain related to statin use.
Improving Heart Health: The heart contains some of the highest concentrations of CoQ10 in the body. The vast majority of people with heart disease also have low CoQ10 levels. Researchers now consider low CoQ10 levels to be an indicator of the severity and long-term outcome of various heart diseases.
Treating Migraines: Chronic migraines may be due to inflammation of neurons and cells in a part of the brain called the trigeminovascular system. A 2018 clinical trial investigated whether CoQ10 supplements could reduce inflammation in 45 women with episodic migraines. The women took 400 mg daily doses of either a CoQ10 supplement or a placebo. The women who took the CoQ10 supplements had fewer and less intense migraines when compared to the placebo group.
Supplement Facts
Ingredients: See Supplement Facts
Manufacturer Country: USA
Amount: 30 capsules
Bruto Weight: 1.46 oz (41.39g or 0.09 lb)
Usage: As a dietary supplement, take one (1) capsule twice a day. For best results, take 20-30 min before a meal or as directed by your healthcare professional.
Caution: Do not exceed recommended dose. Pregnant or nursing mothers, children under the age of 18, and individuals with a known medical condition should consult a physician before using this or any dietary supplement. KEEP OUT OF REACH OF CHILDREN. DO NOT USE IF SAFETY SEAL IS DAMAGED OR MISSING. STORE IN A COOL, DRY PLACE.
*These statements have not been evaluated by the Food and Drug Administration . This product is not intended to diagnose, treat, cure, or prevent any disease.
Why Choose Our CoQ10 Supplement?
Our CoQ10 supplement provides 200mg of ubiquinone per capsule, the ideal dosage for supporting heart health and energy production.
We source our CoQ10 from high-quality ingredients to ensure purity and potency.
Our supplement is manufactured in the USA in an FDA-approved facility following strict GMP guidelines to ensure the highest quality and safety standards.
Our CoQ10 supplement comes in an easy-to-swallow capsule form, making it convenient to take on the go.
Take the First Step Towards a Healthier Heart Today
Don't wait until it's too late to start taking care of your heart. Our CoQ10 supplement can help support your cardiovascular health, increase your cellular energy, and provide a range of health benefits. Order now and take the first step towards a healthier you!