NATROL: Advanced Sleep Melatonin 10 mg, 60 Tablets
Regular price

$9.00
Sale price

$10.40
Pickup currently unavailable
Share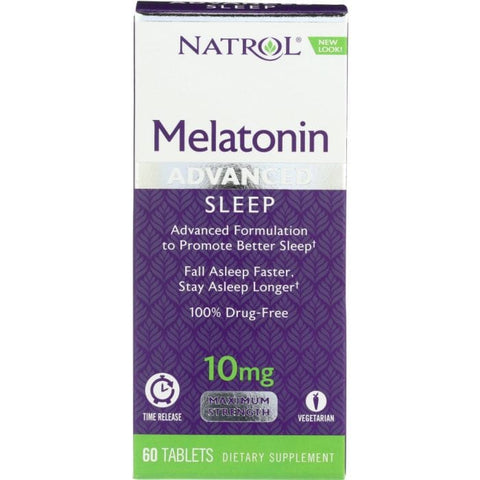 Natrol®, the leader in melatonin, is now offering the maximum strength 10mg dosage!
Melatonin, a hormone made by the pineal gland of the brain, helps regulate your sleep and wake cycles.
Natrol® Advanced Sleep Melatonin is a nighttime sleep aid that assists with occasional sleeplessness, while also working to help reduce overall anxiety.
It helps to establish normal sleep patterns to give you a more restful, relaxing sleep and in turn, better overall health by promoting a healthy immune system.
Adequate sleep is essential to overall health and performance, and plays a role in the ability to learn, create memories, solve problems and maintain a healthy mental outlook.
By contrast, researchers have found that lack of sleep can result in mood swings and an inability to focus and respond quickly.
Natrol® Advanced Sleep Melatonin is the maximum strength available on the market.
The 2-layer controlled release tablet gives you an initial 5mg dosage to help you fall asleep fast, and then releases the remaining 5mg over time to help you sleep through the night.