OM MUSHROOMS: Mushroom Master Blend, 3.2 oz
Regular price

$19.00
Sale price

$21.90
Pickup currently unavailable
Share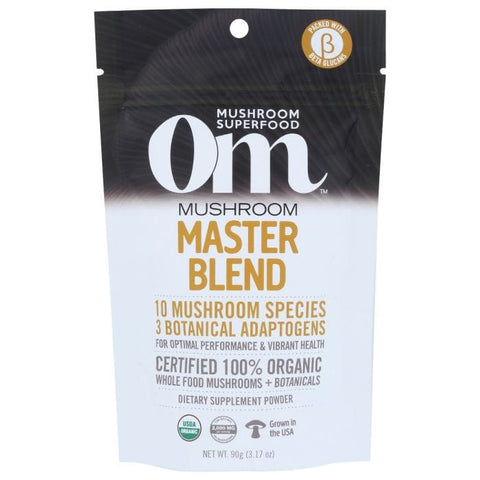 Supercharge your daily health with Om's unique Mushroom Master Blend.
A curated blend from our master mycologist with 10 species of certified organic mushroom mycelial biomass and fruit body powder.
Master Blend contains a full spectrum of naturally occurring active compounds and our proprietary organic Reishi whole food extract standardized to 35% Beta Glucans, plus 3 organic botanical adaptogens, including Ginkgo biloba, Holy Basil, and Astragalus.
It's a powerful master blend for vibrant health.
Om Mushroom Superfood Master Blend: Contains one 6.2 Ounce pouch (67 servings) of a Master Blend of Mushroom Support including Cordyceps, Reishi, Lions Mane, Turkey Tail, Chaga, and more for optimal health and immune support. Each serving of this organic mushroom complex provides 2,000mg of mushroom
Supercharge Your Daily Health: This unique mushroom powder supplement from Om Mushroom Superfood offers a mushroom blend of 10 organic whole food mushrooms plus 3 organic botanical adaptogens in one convenient mushroom powder to support your vibrant health
Full Spectrum Immune Support: Om's Master Blend Powder is made of whole food mushroom powder that includes mycelium and fruiting bodies and provides immune health support with beta-glucans, antioxidants, plus dietary fiber and prebiotics for gut health
USA Grown the Om Way: Om Mushroom Superfood Powders, Capsules, Hot Drinks, Energy Drinks and Broths are all produced in the USA. We grow, dry and mill our organic mushrooms into powders in our state of the art facilities in Southern California, to ensure the highest quality, and verify using 3rd-Party Testing. Om Mushroom powders are USDA Certified 100% organic, non-GMO, gluten-free, vegan, grown in the USA, paleo-friendly, keto-friendly, kosher
Full Line of Premium Mushroom Supplements: Try our full-line of premium mushroom powders, capsules, functional beverages, like coffee, and hot chocolate and savory broths to support overall health, immunity, focus, energy, beauty and performance
 
 
Ingredients 
Certified Organic Mushroom Powder Blend: Organic Lion's Mane (Hericium erinaceus) mycelial biomass & fruit body, Organic Reishi (Ganoderma lucidum) mycelial biomass & fruit body, Organic Cordyceps (Cordyceps militaris) mycelial biomass & fruit body, Organic Turkey Tail (Trametes versicolor) mycelial biomass & primordia, Organic Chaga (Inonotus obliquus) mycelial biomass & primordia, Organic King Trumpet (Pleurotus eryngii) mycelial biomass & fruit body, Organic Maitake (Grifola frondosa)mycelial biomass & primordia, Organic Antrodia (Antrodia camphorata) mycelial biomass, Organic Shiitake (Lentinula edodes) mycelial biomass & fruit body and Organic Himematsutake (Agaricus blazei) mycelial biomass & primordia, Certified Organic Reishi (Ganoderma lucidum) Extract (std. to 35% Beta Glucans), Certified Organic Adaptogen Blend: Organic Astragalus Root Powder, Organic Ginkgo biloba Leaf Powder, Organic Holy Basil Leaf Powder, Organic Myceliated Oats.
Legal Disclaimer
Statements regarding dietary supplements have not been evaluated by the FDA and are not intended to diagnose, treat, cure, or prevent any disease or health condition.
 
CUSTOMERS TESTIMONIALS
⭐ ⭐ ⭐ ⭐ ⭐

My skin is the smoothest it's ever been! 
I am a 55 year old male who never talks about skin being smooth or supple. But I noticed after taking this product for 1 month that my skin was extremely smooth and my crows feet were starting to fade a little. This product was the only supplement new to my supplementation. Open pores have closed up and my face is the smoothest it's been. I purchased this for other benefits but then researched and found Chaga and Reshi to be beneficial for skin and man was I surprised. I was seeing first hand quick results of this truth. I mix in my water with Keto 1000 electrolyte powder which hides the earthy taste of the mushroom blend. Love it and will continue.

 

⭐ ⭐ ⭐ ⭐ ⭐

Pure energy giving food.
Customer: Jolie N. Tomaselli
I'm already high energy but noticed two weeks later a super boost. It also took away some sports related inflammation. I referred it to three friends who purchased it based on my testimonial.

⭐ ⭐ ⭐ ⭐ ⭐ 

Smooth-tasting Mushies
Customer: Wendy Dickerson
I feel better and it's become a delicious addition to my morning tea. The flavor is definitely earthy but hello: they're mushrooms. I personally like the flavor. I put a scoop in my morning English breakfast tea & add in some vanilla oat milk creamer. I've really liked this combination. Definitely recommend. I already purchased the large bag 🤣

⭐ ⭐ ⭐ ⭐ ⭐  

First experience
I apologize for taking the picture after opening instead of before. I received my order today, and have taking the first serving. I added to a cup of coffee. I used natural sweetener and vanilla creamer. I REALLY enjoyed the flavor and the energy I felt already in the first day. I'll update my review after more servings. 9/27/22